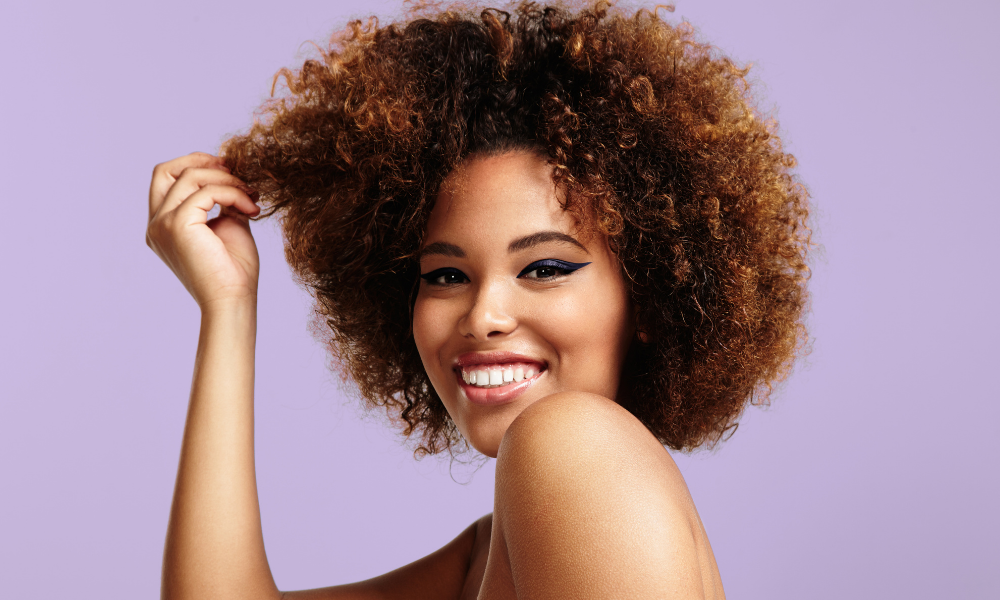 Did You Color Your Natural Hair? Here Are 5 Tips to Help Keep Your Tresses Healthy.
So you just got your natural hair colored and you're wondering how to prevent damaging your hair further. Much like uncolored natural curls, color treated curls need moisture. Keep in mind, when you add color, your hair needs even more moisture. Think about what you are doing when coloring natural hair: you're opening up your hair cuticles to deposit dye and using ingredients such as bleach and drying alcohols to lift and deposit color. This can severely compromise hair hydration and health, which can lead to breakage. This all may sound scary, but if done right and is cared for properly, it is absolutely possible to have shiny, bouncy, color-treated curls! Listed below are some tips to make caring for color treated hair easier. 
Tip 1: Use Hydrating, Color-Safe Shampoos
Your moisture routine should always start in the shower. Make sure you are using sulfate-free shampoos. One thing color treated hair does NOT need is more stripping, which is exactly what shampoos with sulfates do. Instead look for gentle shampoos like Kinky Tresses Sulfate-Free Avocado Infusion Shampoo. This shampoo contains nourishing ingredients such as glycerin and avocado oil. These ingredients will aid in adding moisture back into your hair.
Photo by Kristen Reynolds on Unsplash
Tip 2: Consider Using a Protein Treatment
When you color your hair, you are loosening the cuticle of your hair. This means that you are making your hair more porous. We have a blog post here that goes more in depth about porosity and how to care for different porosity levels. Using protein treatments after coloring your hair can help add extra strength to your tresses. These treatments are designed to fill in gaps in your strands that occur due to cuticle damage. 
Tip 3: Take It Easy With The Heat
You already know that heat can be damaging to your hair. So, using heat after severely changing your hair with color treatments can cause even more damage to your hair. Instead of using heat, try opting in for more protective styles such as two-strand twists, braids or buns. If you're looking to stretch out your curls, there are many heatless options like flexirods, roller sets and twist outs. 
Tip 4: Show Your Hair Some Extra Love and Attention
It's no surprise that color treated hair is fragile compared to uncolored hair, so it is very important to show your curls some extra love. Make sure you are using products that are designed for color treated hair such as Kinky Tresses Moisture Max Bundle. This bundle is formulated to add extra moisture back into your hair. Your hair is probably drier than usual, meaning it can also break easier. Be sure you are super gentle with your hair when detangling. Use a wide tooth comb or finger comb through your hair. Make sure you are starting from the end and working your way up to the root. 
Tip 5: Deep Condition and Moisturize
Deep conditioner will become your new bff. You want to make sure you are deep conditioning frequently. If you can, try to deep condition every time wash day comes around. After coloring, your hair is weaker than usual. Over time, incorporating deep conditioners into your hair more frequently will strengthen your color treated curls and make them shiny and bouncy! Kinky Tresses Avocado Infusion Restorative Conditioner doubles up as a deep conditioner.  Use it as a conditioner after shampoo and then leave it in your hair for a few extra minutes to really penetrate your curls. Using methods such as the LOC method will do wonders for your freshly colored curls. Lastly, make sure you are paying close attention to the ends of your hair since they are the oldest and weakest parts of your hair. 
We know this may sound like a lot of work, however if you want to maintain your healthy curls after color treating them, you need to give your curls some extra TLC. These 5 tips should make caring for your freshly color treated hair a lot easier! Let us know if you colored or are thinking about coloring your hair. For more tips click here or keep up with us on Facebook and Instagram.