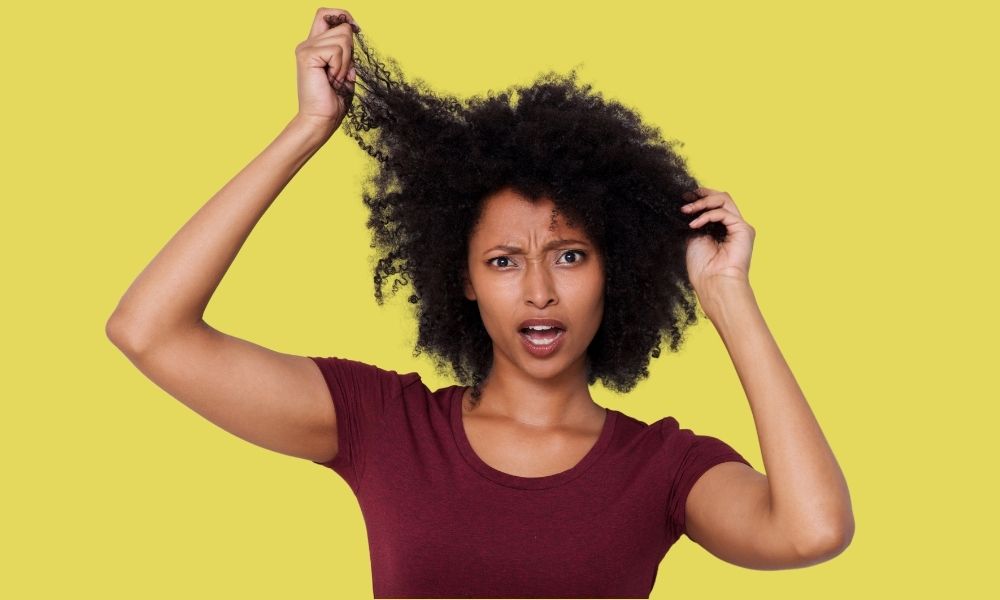 Natural Hair Shrinkage Is Real. Here are 6 Easy Tips to Combat Shrinkage!
Shrinkage is inevitable if you have naturally curly hair. While it can be annoying and frustrating, shrinkage is actually a sign of healthy hair. The fact that your hair is shrinking back to its normal texture means that you do not have any heat damage or any other damage that may compromise your normal hair texture. While some people can experience about 20% to 30% of shrinkage, others can experience as much as 85% depending on the curl pattern. Your curl pattern is determined by the shape of your hair follicles. Curly hair patterns have oval shaped follicles while coily and kinky hair patterns have elliptical shaped follicles. The narrower the follicles, the tighter the curls and the greater the degree of shrinkage. 
What Is Shrinkage and How Do I Deal With It?
Shrinkage is the contraction or decrease in length of your curls as your hair dries. 
Tip 1: Embrace It!
Say what? That's right, instead of trying to fight your shrinkage, learn to embrace it. It's a normal characteristic of curly hair and it cannot be totally avoided. You can however learn to work with it by using methods and techniques to minimize the level of shrinkage that you experience. 
Tip 2: Section While Washing
One of the easiest ways to minimize shrinkage is to keep your hair sectioned in twists during washing. Handle one twist at a time when shampooing, conditioning or rinsing. After washing the hair, try keeping these elongated twists in as you style one section at a time. By keeping the hair sectioned and separated, you'll not only minimize shrinkage but you'll prevent tangles as well.
Tip 3: Blow Dry Roots
If you're okay with using a little bit of heat, try blow drying the roots of your hair. Once your hair is about 90% dry, use a heat protectant on your roots, grab your blow dryer, lightly tug on your roots and blow dry on a medium heat. Try not to blow dry your roots straight, just enough to stretch your hair and give you a little more length! The goal is to make sure you are only blow drying your roots. However, try to avoid just holding the blow dryer right at your roots.
Tip 4: Try "banding" your hair
Banding involves the use of hair ties or ponytail holders to stretch the curls in place as they set overnight. This prevents the hair from shrinking which gives a more elongated look to your style. Be sure to also cover your hair with a scarf or bonnet to avoid damage and reduce frizz. Once you wake up, apply a few drops of our Nourishing Hair Oil to your palm, take the bands out and fluff your curls to get them back into shape.

Tip 5: Make Sure to Moisturize Hair Regularly 
We all know by now that natural hair loves moisture. Moisture moves from a place of high concentration to a place of low concentration so if your hair is dry, it will attract moisture from the air which will cause the hair to shrink up. If the hair is properly moisturized and your style is set using moisturizing products like our Kinky Tresses Avocado Infusion Hair Milk or Coconut Mango Hair Butter, your hair is less likely to shrink up because it will not pull as much moisture from the air. Your styles will hold definition longer as well.
Tip 6: Make Sure you "Break The Cast" of Your Gel
Gel is a great way to define your curls and reduce frizz. However, using gel comes with a trade-off. While you may have super defined curls, gel can create a hard cast around your curls, making them tight and shrunken. So what can you do? You can actually "break the cast" that your hair gel makes. After styling and once your hair is completely dry, apply some oil to your hands and fluff and scrunch your curls to break the cast.  
As I've said before, shrinkage can be annoying and frustrating. But it's also your hair's way of telling you it's healthy and can curl back to its natural state.  We hope these tips were helpful! For more tips click here. Keep up with us on Facebook and Instagram. @kinky_tresses