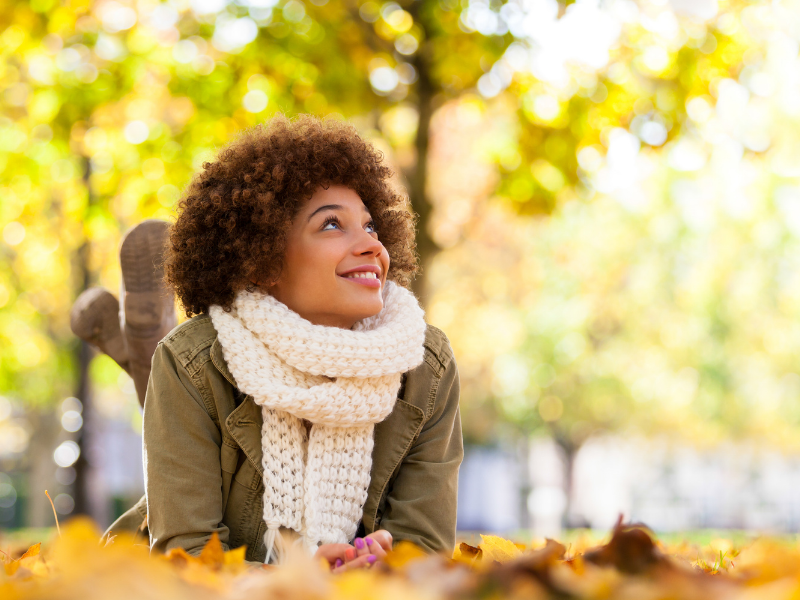 Fall Is Here! Time To Refresh Your Natural Hair
The first day of fall is officially here! You know what that means. Time to give your tresses a refresh from the harsh summer weather! We've gathered 5 tips to help you refresh and protect your curls during these cooler months.
Clarify Hair
You've probably subjected your hair to salt water, sand and chlorine this summer. You've also probably protected your hair from the elements with heavy butters, leave-ins and oils. So what better way to start off your fall natural hair refresh than with a clarifying shampoo! Your tresses need a reset from all of this. Make sure you are getting rid of all the dirt and buildup in your hair by using your favorite clarifying shampoo and then following up with a hydrating conditioner such as Kinky Tresses Avocado Infusion Restorative Conditioner. When picking out your clarifying shampoo make sure to pick one that will clean your scalp but not strip your hair of it's natural oils. 
Protein Treatments
Summer humidity probably made your natural hair swell up and frizz, but did you know that humidity can also make your hair weak and brittle? Your hair could look mushy, and this mushy hair is weak and more susceptible to breakage. Using protein treatments can strengthen your hair. Just make sure to monitor your hair to make sure you are not overloading your tresses with protein. 
Use Moisturizing Butters 
Now that it's getting colder, your curls are going to need a lot more moisture. To create a strong layer of protection against the cold air, make sure you're using moisturizing butters to seal in that moisture. This will make sure your hair stays moisturized for longer and help to reduce the amount of breakage that's too common during the fall months. Kinky Tresses Coconut Mango Hair Butter is perfect for adding a strong layer of moisture to your curls. It's water based so it provides deep penetrating moisture that lasts for days.
Deep Conditioner
The summer weather has been harsh on your hair. Give your tresses a little TLC and grab your favorite deep conditioner! Kinky Tresses Avocado Infusion Restorative Conditioner not only works as a conditioner, but can also double up as a deep conditioning treatment! Lather your conditioner all over your hair and grab your shower cap to produce some heat. Leave it in for about 20-30 minutes and then rinse it out and enjoy buttery soft curls.
Trim Your Ends
If you've been wearing your hair out during the summer months, the humidity probably caused some shrinkage which can also cause tangling as well. These tangles may have led to knotting or even split ends. If that's the case, it's time to start the fall with a clean slate. Head to your nearest stylist, and get those ends trimmed! You don't want to head into the fall and winter months with dry, brittle and dead ends.
We hope you enjoyed these tips above. For more tips click here. Make sure you are following us on Instagram and Facebook.