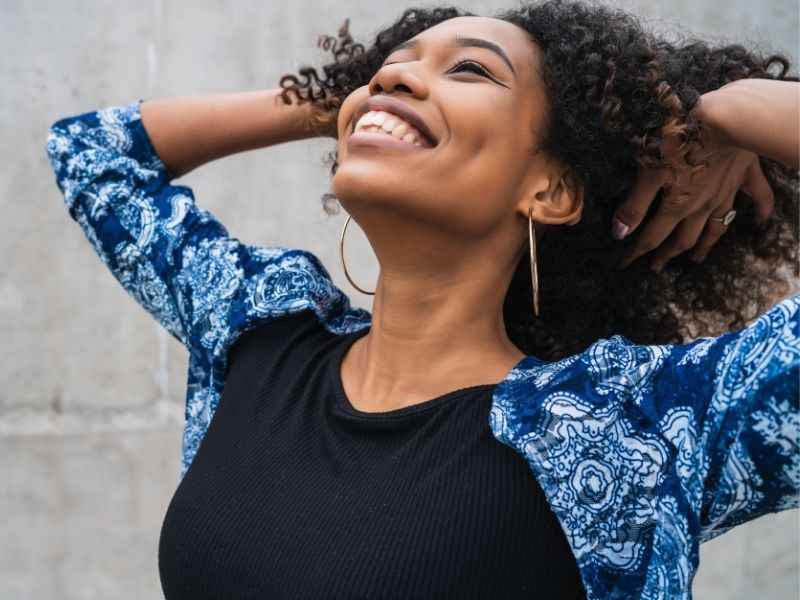 How To Be A Lazy Natural Without Neglecting Your Hair
If you're a minimalist natural like me, adopting a lazier approach to your hair doesn't mean you're neglecting it! Honestly the less you manipulate your hair the better. Cutting back on heavy manipulation is key to adopting a "lazy" hair care routine. Adopting this routine also helps with length retention. When you are adopting this approach, you are focusing more on moisture and less on manipulation. Listed down below are a few tips to help you become a lazy natural without neglecting your hair.
Cleanse, Condition and Style
When you're a lazy natural, there are 3 steps you need to remember: Cleansing, Conditioning and Styling. Natural hair needs moisture but the only way to effectively get that moisture in is to start off with clean hair. I know many naturals shy away from using shampoo but the truth is, skipping this very important first step can lead to chronic dry hair and breakage. Make sure when wash day comes around you are washing your hair with a shampoo like Kinky Tresses Avocado Infusion Sulfate-Free Moisturizing Shampoo. Once your tresses are all nice and clean, moisture will actually be able to penetrate your hair more effectively. Follow up this shampoo with our Avocado Infusion Restorative Conditioner for nourishment, strength and moisture. After conditioning, style your hair with the Kinky Tresses Moisture Max Bundle. This combination of products packs a powerful punch of moisture to the hair and provides hydration ALL WEEK LONG. The longer your hair stays moisturized, the less time you'll have to spend manipulating it. It's the ultimate "set it and forget it" approach to your hair care routine. 
Have a Go-To Style
Having that one go to style is a must when you're a lazy natural! My usual everyday style is just a middle part with my hair down, but if my curls don't want to cooperate with me that day, I slick it down in a low bun. Having a style you can always fall back on can save you from anxiety if you are styling your hair for a special event or trying a new style for the first time. 
Products That Double Will Be A Game Changer
Having a product that can do two (or more) things at once will reduce the steps in your natural hair routine and also save you money. Products like our Avocado Infusion Hair Milk doubles as a leave-in conditioner and as a styler as well. Conditioners that can also double up as rinse out conditioners and deep conditioners, such as Kinky Tresses Avocado Infusion Restorative Conditioner will not only cut wash day in half, but also save you some money. 
Simplify Your Natural Hair Routine
Finding a natural hair routine that works for you can be difficult at first. However, once you find your hair regimen that works for your curly type, stick with it! How you handle your hair on the daily has a real effect on how well your tresses retain length. Finding styles that are simple and you can stick to really helps in your natural hair journey.  In case you're in need of a simpler hair routine, I've listed a few tips down below:
Wash and Detangle once a week. For tips on how to quickly wash and detangle your hair, click here.

Style once a week

Deep condition 1-2 times a month

Moisturize with intense moisturizing products for week long moisture.
Being a lazy natural doesn't mean that you are a lazy person. In fact, lazy naturals lead very busy lives and probably do not have a ton of hours to dedicate to a lengthy natural hair routine.  We hope you found these tips helpful. For more tips click here.  Be sure to keep up with us on Instagram and Facebook for tips and inspiration.