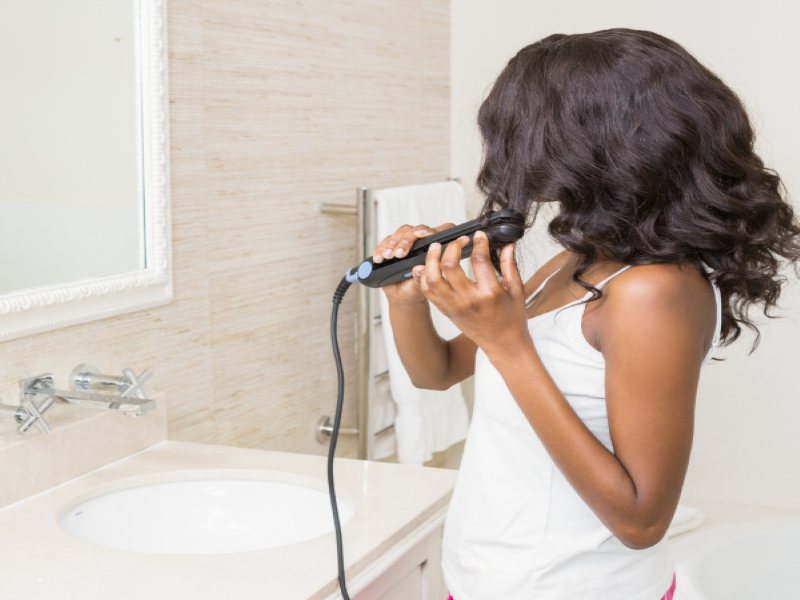 How To Avoid Heat Damage On Your Natural Hair This Fall
One of the greatest things about having curly hair is how versatile our tresses can be. Braids, buns, twists, wash and go's, there are an endless amount of hairstyles we can do on our natural hair. With the weather getting a little cooler, now is the perfect time to explore heat styling. While there is no right or wrong time to add heat into your routine, the summer time does make it a little more challenging because natural straight hair and summer time heat do not always mix. That being said, I know many Kurlies- myself included- struggle with the idea of putting heat on natural hair. If you are constantly putting heat on your natural hair, then yes, heat styling can negatively affect your tresses. However, if you are prepping and protecting your natural hair before and after styling, you can avoid long-term hair damage. Below we've listed 6 tips to help protect your natural hair this fall season!
Prep Your Hair
Before applying any type of heat to your hair, make sure you are starting with a clean base. Clean hair is the best kind of hair to work with when adding heat outside of your normal routine. So grab your shampoo and conditioner and get to cleaning! The Kinky Tresses Avocado Infusion Sulfate-Free Moisturizing Shampoo and the Avocado Infusion Restorative Conditioner are bomb for prepping your hair! The shampoo cleanses your scalp without leaving it feeling dry and the conditioner adds so much moisture back into your tresses. You can also leave the conditioner in a little longer for deeper conditioning. 
Heat Protectant
After washing and conditioning, make sure to detangle and add your favorite heat protectant to your hair. When searching for a good heat protectant, make sure to look for key ingredients like silicones. I know that silicones may sound scary in your everyday products, but since you are using a higher level of heat, silicones will act as a protective layer to your tresses and help to prevent heat damage because of its ability to tolerate high heat.
If you are blow drying your hair, Kinky Tresses Avocado Infusion Hair Milk works great as a blow-out cream. Not only does it add moisture to your tresses, but it will also help protect your curls. And if you are using a flat iron, add in a heat protectant that is a little lighter, like a serum or spray!
Invest in Good Heat Styling Tools
Investing in good heat styling tools is a great way to avoid any serious damage done to your natural hair. My two favorite straighteners are most definitely the Babyliss Pro Nano Titanium straightener and the Croc Classic Black Titanium Flat Iron. While these two straighteners are on the pricier side, they do an amazing job at straightening my hair without leaving long lasting or serious damage.
Lower Heat Setting
Most flat irons nowadays go up to about 450 degrees. However, hair begins to burn at 450 degrees. When flat ironing your hair, try using a medium or low heat setting.  
Wrap Hair at Night
Wrapping your hair at night is essential after using heat. Wrapping your hair helps you avoid using extra heat to straighten out any kink or bumps in your hair that have appeared after a good night's rest. 
Care After Heat Styling
The way you take care of your hair after you've straightened it is just as important as the way you prepped it before heat styling. Heat styling breaks some of the bonds in your hair that keep your curls in tact. Proper "after heat styling" care will help to restore those bonds (if there is not heat damage) and get your curls looking bouncy again. Give your hair a deep cleanse to remove the protective silicone layer. Apply a deep conditioner such as Kinky Tresses   Avocado Infusion Restorative Conditioner to give your hair the balance of moisture and protein that it needs. Next, moisturize using our Moisture Max Bundle to get your curls fully hydrated, nourished and popping again.
With using heat on curly hair comes consequences like dryness and breakage. However, if you are prepping and protecting your hair before and after heat styling, you will be able to maintain your curls and leave them feeling healthy with minimal damage. We hope you enjoyed these tips. Let us know what tips you implement when heat styling your hair. For more tips click here. Make sure to follow us on Instagram and Facebook.