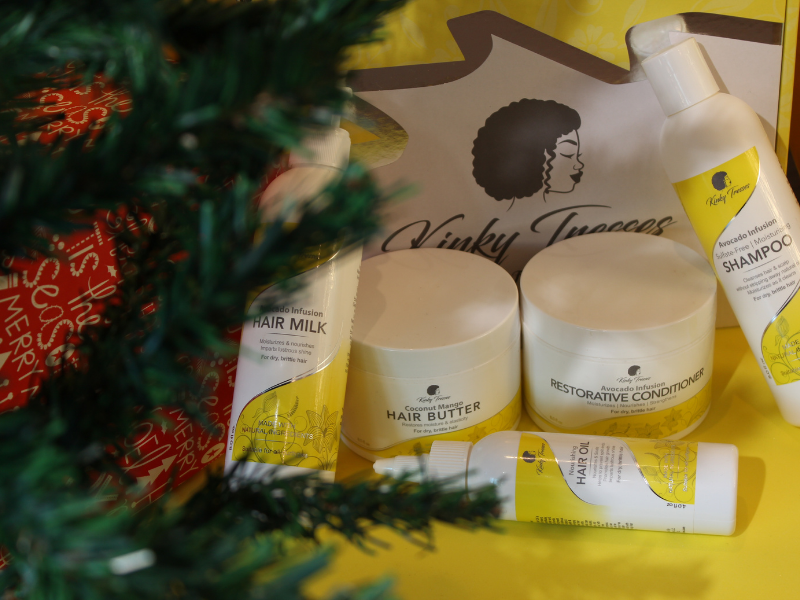 Kinky Tresses Ultimate Holiday Gift Guide
It's the most wonderful time of the year! The holidays are right around the corner and if you're struggling to find the perfect gift Kinky Tresses has got you covered! Down below you'll find the perfect gift for all the special people in your life.
For the Naturalista in Your Life
Our Wash Day Bundle Gift Set is the perfect gift for the naturalista in your life! Everything you need for a stress free wash day is right here in this bundle. The products are made with high quality ingredients specifically formulated to intensely moisturize and make kinky, curly, coily hair more manageable.  The naturalista in your life will see an immediate difference in how the hair looks and feels.
For the Skin Care Enthusiast 
Is there a skin care obsessed person in your life? They'll love our Tea Tree and Aloe Face Cleanser and Face Serum! This duo is perfect for someone who is looking to upgrade their skincare routine or someone who is just starting to get into skincare! Our Tea Tree and Aloe Face Cleanser is super gentle so it won't leave your skin feeling stripped. This cleanser is great for both your morning and night routine! Follow up with our Face Serum to hydrate and moisturize your skin. This non-greasy formula goes on smooth leaving the skin soft and supple. 
For the Jetsetter in Your Life
You know that friend or loved one who's always traveling? Our Sample Pack would be the perfect gift for them! Our sample pack includes mini sizes of our Moisturizing Shampoo, Restorative Conditioner, Hair Milk and Hair Butter. It's the perfect way for them to maintain their healthy haircare routine on the go without traveling with bulky full sized products. This sample pack also comes nicely packaged in a clear baggie that makes traveling with them super easy and convenient! 
Bath and Body Enthusiast
Is there a bath and body enthusiast in your circle? Or maybe there's someone in your life that could use a little pampering. Our Whipped Sugar Scrubs, Body Butters and Body Oils are the perfect gift. Not only do these products smell amazing, they also help to exfoliate, hydrate and brighten the skin. We have a ton of year round scents and a few seasonal scents, like our Christmas Cookies Body Scrub and Body Butter. This scent is perfect for this time of year.
 Body Butter
Whipped Sugar Scrub
Body Oil
Let's Not Forget About the Men in Your Life
Struggling to find a gift for the men in your life? Men need pampering too! Give the man in your life our Smooth Operator Body Butter and Beard Oil. Our Smooth Operator Body Butter leaves the skin feeling soft and moisturized, while our Beard Oil helps to make the beard soft and moisturized while promoting beard growth. 
For the Lady Boss 
Statement apparel is the perfect gift for the lady boss in your life. MADE by SJ (Mastermind All Dope Endeavors) is a black woman owned company that was created to empower Boss Women with a Vision through statement apparel. Owner Seymone Jackson offers a variety of T-Shirts and Hoodies, each piece speaks the mind of women who aren't afraid to bet on themselves! You can shop these items and more at www.madexsj.com. You can also find them on Instagram, Tiktok & Twitter @madexsj.
 Seymone Jackson
We hope that our gift guide will help to make shopping for the special people in your life a little easier this holiday season. Happy Holidays from our family to yours.