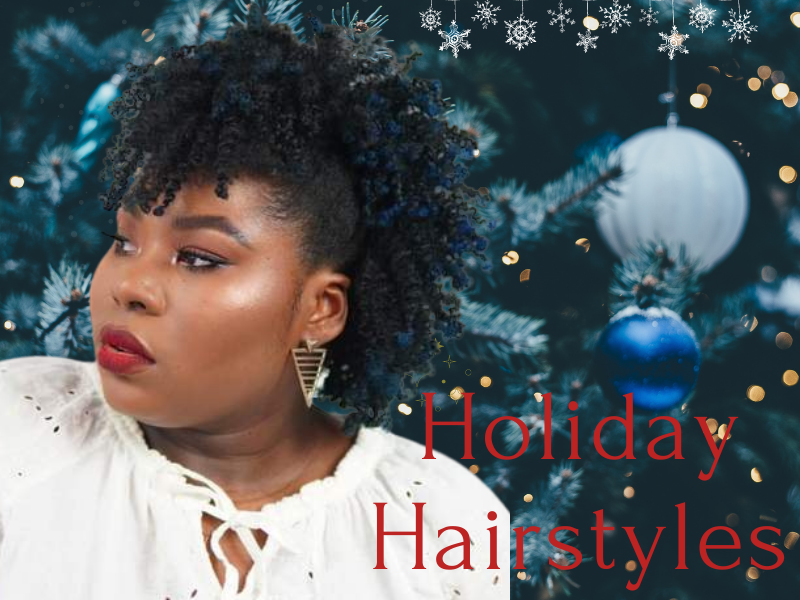 4 Easy Holiday Hairstyles for Natural Hair
Whether it's a holiday party or sitting around the Christmas Tree with family, these natural hairstyles are the perfect way to sleigh during this festive time of year. Listed down below are 4 cute, trendy yet easy to recreate natural hairstyles! 
Flat Twists and Curls
This style features 3 to 4 flat twists on one side of the head with the rest of the hair in regular 2-strand twists. You can achieve this look by sectioning off one side of your hair near your ear and creating 3 to 4 flat twists using our Avocado Infusion Hair Milk or Coconut Mango Hair Butter. Install 2-strand twists with the rest of the hair. Let the twists set overnight until they are completely dry. Carefully unravel the 2-strand twists with a few drops of our Nourishing Hair Oil to minimize frizz .Leave the flat twists intact. Finish this look by adding some hair accessories to add a little Holiday sparkle.
Photo Credit: @_harrisjanae_
Get 25% off sitewide with code: GIFT25
Fro Hawk 
This style is edgy and super easy. It's the perfect way to add some pizazz to a boring twist out. Create 2-strand twists on damp hair using our Coconut Mango Hair Butter or our Avocado Infusion Hair milk and allow them to dry overnight. Unravel and fluff your curls then gather them up on each side of your head. Smooth each side with a brush and add bobby pins to secure the curls in place. That's it!
Photo Credit: @_bubsbee
Perm Rod Style with Braids
To get this look, it's best to start on clean hair so that your curls have maximum volume. Start with using our Avocado Infusion Shampoo and Conditioner. After cleansing and conditioning, section the hair into manageable sections and apply some of our Avocado Infusion Hair Milk to each section. Use a handheld blow dryer to blow out each section. Create a 3 inch braid in the center of your head. Next, create a braid on each side of the head starting from the center and braiding towards each ear.  Next create small to medium sized sections, add the hair milk and set the hair with perm rods. Do this all throughout the rest of your hair. Allow the style to fully dry overnight. Unravel using a few drops of our Nourishing Hair Oil to prevent frizz. Fluff curls to desired volume. Add accessories to braids to finish off the look.
Photo Credit: @dhatgirlbecca
Top Knot Puff
Top knot puffs are another timeless and effortless hairstyle for any holiday party or gathering. For this style, first ensure that your hair is properly moisturized by using our Coconut Mango Hair Butter. Gather all your hair at the top of your head, smooth down the sides and back by brushing in an upward motion. Secure the puff at the top of your head with a large hair tie. Fluff your puff to your desired volume. Add a hair accessory if you so desire. That's it! Easy right?
Photo Credit: @tolaniav
We hope you enjoyed these cute and simple holiday hairstyles! Let us know in the comments which style you'd try out! For more tips click here. Be sure to follow us on Instagram and Facebook.