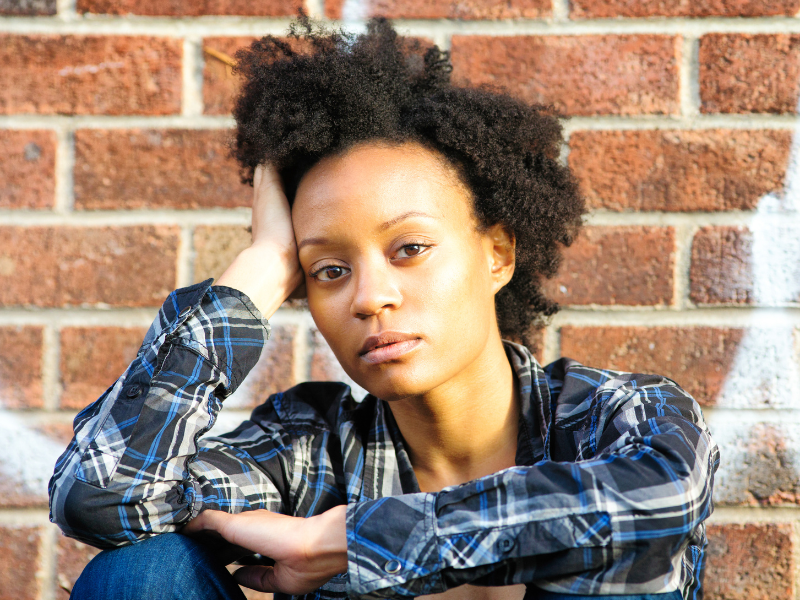 Natural Hair Feeling Dry? Here's How To Fix It .
If you have curly hair, you've probably battled with some form of dryness. The tighter your curls are, the drier they can be. Why is that? Our scalp produces a natural oil called sebum. The function of this natural oil is to coat the scalp and strands to keep them lubricated and protected. This oil is suppose to travel down the length of your hair strands but the curves and coils of curly hair make it harder for it to travel down the hair shaft. This is why curly hair tends to be drier than straight or wavy hair. So how can you keep your tresses moisturized? Listed down below are 7 practical tips to help you kick dry hair to the curb for good. 
Start With A Clean Canvas
This may sound counter productive but it's important to cleanse the hair on a weekly basis to get rid of dirt and debris. If the hair isn't properly cleansed, it can cause product buildup which will make it more difficult for your hair to absorb moisture and nourishment from your conditioners and other products. Moisturizing shampoos such as Kinky Tresses Avocado Infusion Sulfate-Free Moisturizing Shampoo do a great job of cleansing without stripping the hair of its natural oils. If you have a lot of product buildup from wearing a long term protective style, a clarifying shampoo is recommended after taking the protective style down.
Follow Up With A Balancing Conditioner
After shampooing your hair make sure you are conditioning with a balancing conditioner. Balancing conditioners contain both moisturizing and strengthening ingredients. These conditioners not only help moisturize your hair, but also help fill in gap that may be present in your hair shaft. Once these gaps are filled, your hair will be able to retain more moisture. A good example of a balancing conditioner is our Avocado Infusion Restorative Conditioner.  The great thing about this conditioner is that it is gentle enough to use on a weekly basis.
Learn Your Porosity
Your hair porosity plays a big part in how your hair retains moisture. Since porosity affects how your hair retains moisture, it also affects how you moisturize your hair. We have a blog post that goes in depth in finding your hair porosity type and different products to use here. But I'll run down the basics of porosity:
Low porosity hair: this hair has a tighter cuticle layer and it is harder for moisture to penetrate. When dealing with low porosity hair try using heat when applying your moisturizing products (i.e., warm water, steam, heat cap). Try leaving in your oils and conditioners a little longer so your hair can actually absorb moisture. Also try staying away from heavy proteins. Low porosity hair needs more moisture than protein since there are less gaps in the hair shaft. 
Medium porosity hair: Using protein treatments occasionally on this porosity type can help balance out your protein/moisture levels. Make sure not to use protein treatments during every wash day. This can make your hair feel stiff and dry. Instead, make sure to spread out your protein treatments. Follow up with your favorite leave-in, such as Kinky Tresses Hair Milk, and seal your hair with your favorite oil. 
High porosity hair: This porosity type is all about sealing in moisture since the cuticle layer isn't as tight and there are more gaps for moisture to escape. Methods like the LOC method works well with high porosity hair! Protein treatments work well with this porosity type since the goal is to strengthen the hair cuticle, plug the gaps and keep moisture in. 
Make Sure Your Hair Products Are Water Based
Natural hair LOVES water, so it is important to check and see if your hair products contain water. You won't be able to hydrate your hair without water!  On the ingredients list, water should be the first or second ingredient. If your products don't have water listed as an ingredient, it's simply not moisturizing your hair. Products such as Kinky  Tresses Coconut Mango Hair Butter, Kinky Tresses Restorative Conditioner or Kinky Tresses Avocado Infusion Hair Milk are all water based products so they are great for moisturizing the hair! 
Refresh Spray
We all know that natural hair loves water. So try making it a habit to refresh your hair. Use a refresher spray or just simply add some water to a spray bottle and use it to refresh your curls when they start to feel dry.
LOC Method
The LOC Method is another great way to keep your curls moisturized throughout the week. The LOC Method consists of a Leave-in or Liquid, Oil, and a Cream. This method will help your hair retain moisture and will prevent your hair from looking super dry. When adding the LOC Method into your natural hair routine, each step provides an extra layer of moisture, ensuring that your hair stays moisturized throughout the week. Kinky Tresses has a Moisture Max Bundle that is perfect for ensuring your curls are moisturized throughout the whole week. 
The Environment May Be Working Against You
If you're finding that you have tried everything on your natural hair and nothing seems to work, the environment may be at hand. If you're spending a lot of time outside (especially during the summer months), make sure you are protecting your hair from the elements. Try using scarfs, hats or simple protective hairstyles to help your hair retain moisture.
We know that dryness can be frustrating, but we hope that these tips will help you through your natural hair journey. For more tips click here. Make sure to follow us on Facebook and Instagram (@kinky_tresses)