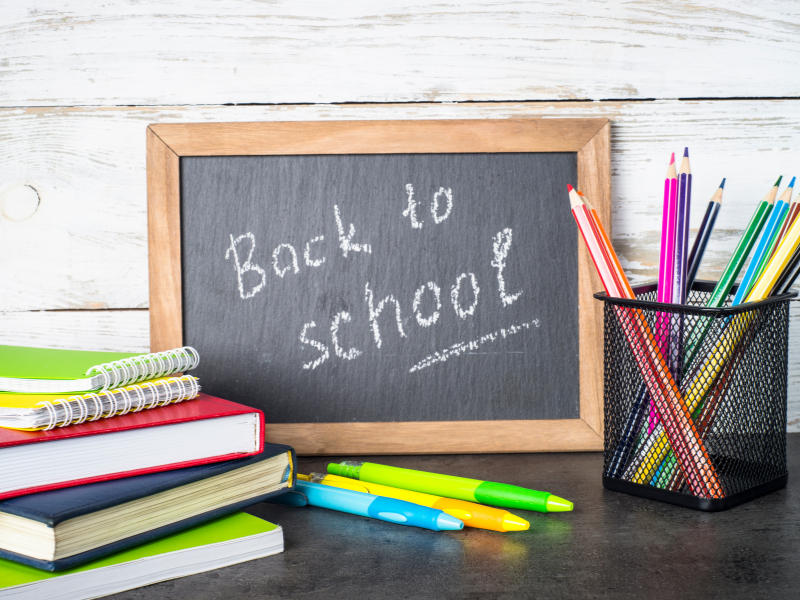 Easy Back To School Natural Hairstyles
Back to school is right around the corner, or for some the school season has already started. If you're looking for easy natural hairstyles, we have put together 6 super cute styles for Kurlies of all ages.
Elementary/Middle School Hairstyles:
This style  features cornrows in the front half of the head with loose hair in the back which are then pulled together with a hair tie. The ends are then secured in twists. This is perfect for moms who don't have a lot of time to install an entire head of cornrows but still want a style that is cute and will last all week long. Braided styles should be done on freshly washed and conditioned hair to prevent buildup or scalp irritation. Shampoo and condition using Kinky Tresses Sulfate-free Shampoo and Avocado Infusion Restorative Conditioner. To install the cornrows and twists and to keep the hair moisturized and shiny all week long, we recommend using the Kinky Tresses Coconut Mango Hair Butter  and Nourishing Hair Oil.
 Photo credit: @discoveringnatural
This style features cornrows gathered into a bun with twisted side swept bangs and beads. It will require a little more time to install but makes a beautiful long term protective style. A huge advantage is that it will make getting ready for school in the mornings a breeze! 
Photo credit: @KidsHairbyRi
High School/College Hairstyles:
This curly frohawk is a show stopper! These curls can be achieved by using the Kinky Tresses Avocado Infusion Hair Milk as a leave in. Blow dry the hair on medium heat then install perm rods by applying our  Coconut Mango Hair Butter as your styler. For best results sit under a hooded dryer to set the curls. Use bobby pins or any decorative pins to pin the sides up and you'll be sure to turn some heads.  
Photo credit: @_harrisjanae_
A sleek top knot bun is the perfect style to transition to when your twist out or wash and go is on it's last leg but you still need to look put together for class. All you need to do is to spritz the hair with some water to make the hair more pliable. Gather all your hair up into a hair tie and smooth the sides down with a gel of your choice. Form the bun and use bobby pins to secure the ends where necessary and you're done! It's an easy style that requires very little time so it's perfect for the busy high school or college student.
Photo credit: @armellebrown
 Tapered cuts are stylish and low maintenance. This makes them a great choice for busy high school or college students. To achieve this style install twists on wet or damp hair using our Coconut Mango Hair Butter. Allow the twists to dry overnight. Unravel and fluff to desired fullness. This style should last all week long.
Photo credit: @splendidbeauty_
 Having your hair in your face while trying to take notes in class can get annoying so half-up half-down styles are perfect for keeping your curls out of your face while still looking cute. This style can be achieved from a twist out or braid out using our Coconut Mango Hair Butter or Avocado Infusion Hair Milk. Create 2 medium sized twists in the front the pull the front half of the hair up into a hair tie and allow the ends to fall loosely. This style is really easy to achieve and can be done on an old twist out, braid out or even an old wash and go. 
Photo credit: @the.curlfriend
We hope that you like these easy back to school natural hairstyles! Comment down below and let us know which ones you would like to try! For more tips click here. Be sure to keep up with us on Instagram and Facebook.