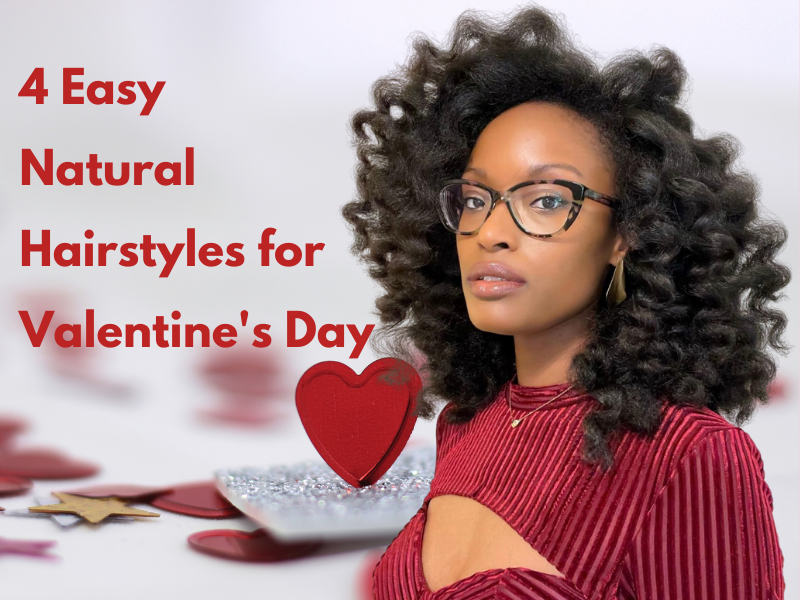 4 Easy Natural Hairstyles for Valentine's Day
Valentine's Day Hairstyles
With Valentine's Day right around the corner, now is the time to plan ahead to ensure that you have a great hairstyle for the international day of love! Whether you choose to spend the day with bae, friends or solo, we think it's the perfect chance to try out some new styles or add a twist to your go-to styles! Down below we've listed a few easy natural hairstyles we think you'll fall in love with this Valentine's Day! 
Flat Twist into low Bun:
This style features 4 flat twists on the crown of your head with the rest of your hair gathered into a low bun. If your hair isn't long enough to create a bun, a faux bun using braiding hair can be used. Make sure that you are working with moisturized hair when creating your flat twists. It makes the manipulation of the hair easier. You can achieve this by using our Coconut Mango Hair Butter. 
Photo Credit: @adannamadueke  
Wand Curls:
 This style can be achieved by blow drying the hair and wrapping small to medium sized sections around a wand curling iron. Be sure to use a heat protectant before blow drying. You can also use  Kinky Tresses Avocado Infusion Hair Milk as a blow dying cream for protection and moisture. If you do not have a wand curling iron, you may achieve a similar look by installing bantu knots.
Photo credit: _nellatexturs
 Voluminous Fro Hawk:
This is an edgy but still very romantic style that is perfect for Valentine's Day! Starting with wet or damp hair, moisturize your curls with our
Moisture Max Bundle
. Next gather the curls on each side of your head. Smooth each side with a brush and add bobby pins to secure the curls in place. If you are worried about shrinkage, install twists and allow them to dry overnight. Take the twists down, smooth and gather the curls then  pin them in place to create the fro hawk. Now you have an edgy but classy hairstyle for a night out with bae! 
Photo credit: @trulytalentedbeauty
Finger Coils:
Finger coils are a great way to spice up your TWA (teeny weeny afro). To achieve a similar style, apply water until your hair is soaking wet. Apply Kinky Tresses Avocado Infusion Hair Milk for moisture. Create small sections and apply gel or styling foam (for hold) and distribute thoroughly throughout the section using a brush. Twirl the section around your finger starting at the base of the section and continue twirling until you get to the end of the hair. Repeat until the entire head is complete. Dry using a hooded dryer or airdry overnight. Fluff the roots to add volume or gently separate sections for a fuller look. 
Photo Credit: @iamkatelynnmorris
 We hope that you enjoyed these beautiful and romantic hairstyles! Let us know in the comments which one is your favorite, and if you try out any of these hairstyles make sure to tag Kinky Tresses on Instagram! For more tips click here. Make sure to follow us on Instagram and Facebook.